As I type this, I've been on hold with American Express for just over an hour. They have lovely classical music playing on loop into my numb ear. No telling how much longer this may last.
The reason that I'm calling American Express is that they are in charge of arranging my travel from here in Hawaii to D.C. Today is the 1st of June; training starts on the 27th -- I figure I need to arrive in D.C. at least by the 25th. Maybe if I start swimming now, I'll arrive just as American Express is taking my call.
Of course, this isn't really American Express' fault. Apparently, I could have called them at anytime over the past month, despite the fact that the literature the FS sent me
explicitly
says not to arrange anything until I have travel orders in hand. Turns out this rule is more of a suggestion. I discovered this this morning when I finally got ahold for the first time of the person in charge of arranging travel orders for new hires. She said she's sort of swamped and would call back... eventually. So currently I have no orders, no packout date, no tickets, and enough of American Express' tinny version of Beethoven's "Pathetique" Sonata to last me a lifetime.
On the bright side, however, I have secured housing in D.C. (Pause for brief trumpet blast and confetti burst). I'll be residing only a block away from the Rosslyn metro station, which means I'll not only have access to the city, but also the free shuttle which will take me to the training facility. The apartment rent is completely covered by per diem* for the first 4 months, half for the next 2 months, and then goes up to a rate I can not afford (i.e., the normal rate) for each month after that. Thus, here's hoping that training only lasts for 6 months, or I'll be having to move...
To find this apartment, I called Nancy Schatz with
Interim Housing Solutions
. She was very helpful, and I highly recommend her to anyone needing temporary housing in D.C. A group I do
not
recommend is Bridgestreet. The person I talked with was over-slick and needlessly pushy.
Well, now it's been an hour and a half. With any luck, calling American Express at 3am EST will be more effective.
And on a totally different note, the other day I saw sea turtles at a North Shore beach. Probably one of the best things I've experienced in Hawaii thus far.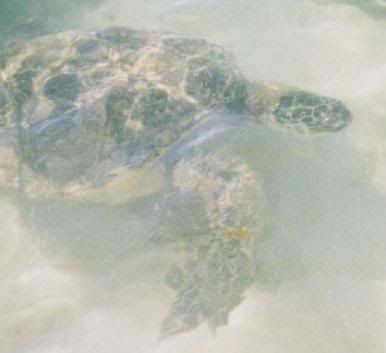 *
Per diem is a daily allowance the government pays its workers for temporary housing and food. For D.C., the housing rate is $153/day for the first 60 days, with the rate decreasing by half for the next 60 days, and half again for 60 days after that. Housing costs which fall below that rate are not reimbursed, and of course the worker is responsible for anything above the rate. The allowance for food is $48/day (also decreasing over time); unlike housing allowances, the food allowance is awarded even if your actual food costs are less. Per diem is a matter of public record, so (unsurprisingly) most apartments list rental rates for government employees at exactly $153/day.