On the train ride home the other day, I found myself wondering why I feel I have so little time. I decided to list how many hours a day I was doing what activity. It got sort of complicated; so I made a pie chart: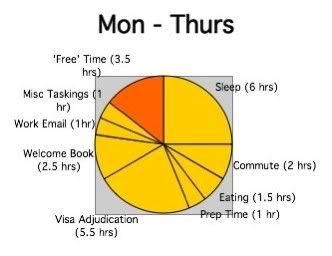 This was a bit disheartening. But I thought maybe Friday would be better, as we don't adjudicate visas on Fridays. Yet, to my surprise: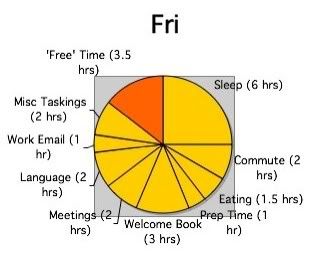 No difference. Work seems to be like a goldfish; it grows to fit whatever size bowl you put it in.
I told my colleague Heather about adding up my time and realizing that I only had a maximum of 3 1/2 hours of free time a day. "I made a pie chart," I explained, pulling out my notes. Heather looked at me in disbelief. "You made a pie chart?" Then she shook her head. "What am I saying. Of course you made a pie chart."
Some people just don't appreciate the joys of time management.