Friday morning is the start of our weekend, and thus the start of my exploration. The sky is shockingly blue and clear above the pale stone buildings. Every structure from here to the horizon is the same height and shape, repeated in soft undulation over the hills. Occasional empty plots, populated with cats and bits of candy wrappers, make breaks in the view.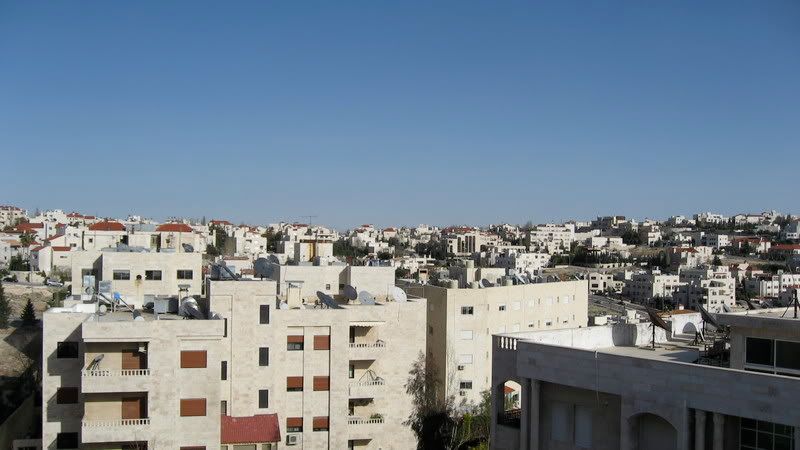 The tinkling sound I couldn't identify turns out to be a herd of goats being driven through the neighborhood. Their bells ring like windchimes, though the animals themselves are quiet. The goatherd dismounts his donkey, adjusts his red and white
headwrap
, and enters the corner convenience store just ahead of me, leaving his flock to meander about outside in a cross-eyed, woolly fashion. To emphasize: There are goats in front of my apartment. And a donkey. Perhaps it's only a misguided love of culturally biased stereotypes, but witnessing this scene made me profoundly happy.
Inside the convenience store, a couple buying groceries is producing a more familiar sound. "Excuse me..." This is high folly given my Arabic aspirations, but I press on regardless. "Are you Japanese?" Why, of course you are. And of course you live in the building behind mine. And of course you know my friend Sara. The store clerk and goatherd both look seriously weirded out by all the bowing and non-English. I am not as weirded out as I should be, though the goats were honestly less of a surprise. There is no escaping Japan.
Having poured over various city maps, I am prepared enough to know that I have no real idea where I'm going. My normal way of exploration is to picture a taut string connecting me to my house; just so long as I have an idea of what direction the string is pulling from, I can usually find my way back. Usually. Eventually I'm going to need a car, at which point I suspect my string method will begin to fail me.
The people out on the street are mostly male and mostly idle. I say good morning, though maybe this isn't culturally appropriate. Responses are reserved, but not unfriendly. More goats. More cats. More houses. What I'm looking for is a
maqhan
-- a coffee shop. The goal is to find a place to sit and read.
No
maqhan
that I can see, though I've been ducking in and out of stores and wandering side streets for an hour. Settling for what seems the next best thing, I try my luck at a little falafel shop tucked between a butcher and a vegetable stand. My stomach is actually growling. The younger of the two men behind the counter looks at my expectantly.
"Uh." Performance time; ten months of training has come down to this. "Salaam wa alikum." So far so good! "[In Arabic, of a sorts:] I only speak Arabic a little. I'm sorry. But I'd like some food."
'Incredulous' is not too strong a term to describe the look he gave me. 'Peeved annoyance' might also be a good description.
"[From what I could make out:] What do you want? Falafel? Hummus?" He's ladling up different things out of various containers and showing them to me impatiently. "You want a 'saanduwish'?" A
sandwich?
Seriously? Is he making fun of me? I can feel my already low confidence crumbling. "Anything is fine," is my rather lame response. Heck, I don't know what I want. I want someone to pat me on the back for even trying to order lunch.
"Give her a sandwich." The older man intercedes. "Do you want to sit?" He's waving towards a table and spouting a stream of Arabic from which I'm picking up only every fifth word, but the context is clear enough. "Do you want tea?" Soon a falafel sandwich, a plate of pickles, and a glass of mint tea materializes in front of me. "Here, have the paper." He thrusts
The Jordan Times
in my hands. Locals drift in and out, some bringing their own bowls to be filled with hummus or fuul. The propane man stops by.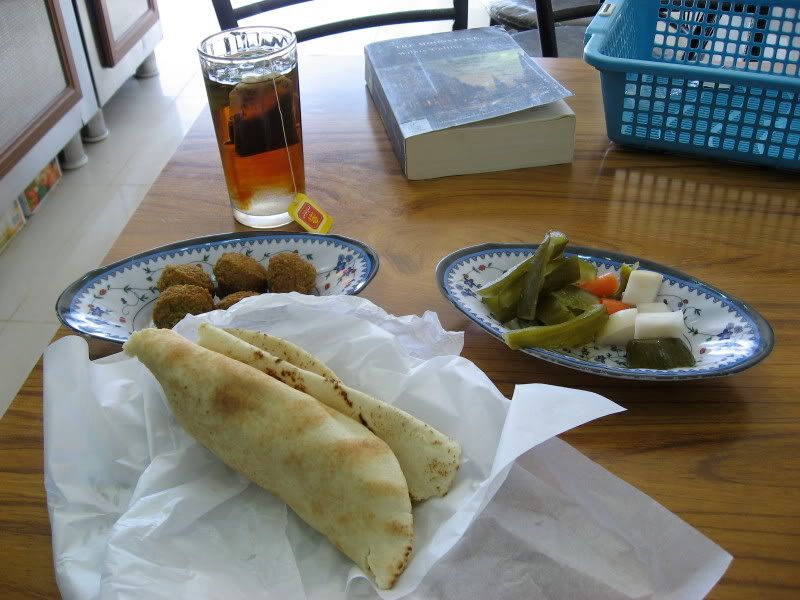 When I'm done eating, I ask if I can sit and read. Nods, waves of hands, a few questions about where I'm from ("Are you with the Americans, or the British?")... The younger man still looks annoyed. Another foreigner comes in and orders a sandwich completely in English, speaking loudly and rapping the counter glass with his knuckles when his order isn't understood. I forgive the younger man's peeved attitude immediately.
"This was delicious. How much is it?" The older man shakes his head, "No need. Welcome to Jordan." "No, really, I want to pay." He had given me far more than I'd asked for, and I hadn't been able to finish. The old man slaps me on the back as he hands me the half-read paper off the table. "Welcome. Good luck to you."
Next door at the vegetable stand, I ask for some
nanaa
, partially because the tea really was quite delicious, and partially because 'mint' is a word I know. I suppose by that same principle, I might also have ordered some 'pollution' or 'globalization'. I will figure all this out. .إن شاء الله